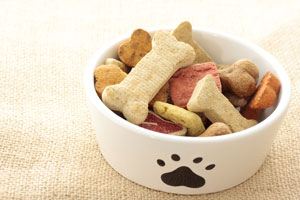 By Nicole Pajer (contributed from Ceasar's Way Website)
Making your own homemade dog treats can be a fun reward for you dog. There are many benefits to making your own dog treats at home.
Control what goes into the recipe. You can ensure that your pet is getting a nutritious and wholesome snack. You can also tailor your dog treat recipes to your dog's taste preferences as well as cater to any dietary restrictions.
Prevent unhealthy additives. Many brands of commercial dog treats are filled with preservatives, which help to extend their shelf life. In addition, store bought treats are often made from fillers and byproducts as opposed to natural and high quality ingredients. By creating your own treats at home, you will be able to provide your dog with a healthy snack that is not only nutritious but is also free of unhealthy additives.
Tasty alternative. Making your own dog treats allows you to provide your pet with a tasty alternative to his usual doggie biscuit.

 Quick Dog Treat Recipe Ideas
Here are a few quick and easy recipes for healthy and nutritious dog treats that you can make in the comfort of your home. Your dog will thank you for reading this!

Leftovers Dog Mix
Frozen Peanut Butter Yogurt Dog Treats
Basic Dog Biscuits
Healthy Pumpkin Balls
Apple Crunch Pupcakes
Leftovers Trail Mix
Combine any of the following leftovers from your refrigerator to create a flavorful trail mix, which you can pack for a hike or after dog park snack
Ingredients
Pieces of meat (if seasoned, make sure to rinse off any flavoring)
Potatoes
Vegetables (no onions)
Fruit (no grapes or raisins)
Directions
Cut ingredients into ½ inch thick pieces
Spray lightly with cooking spray
Place in a food dehydrator or into a 200 degree preheated oven until dried
 
Frozen Peanut Butter Yogurt Dog Treats
The perfect snack to cool your pet down after a vigorous play session
Ingredients
32 ounces vanilla yogurt
1 cup peanut butter
Directions
Melt the peanut butter in a microwave safe bowl
Combine the yogurt and melted peanut butter
Pour the mixture into cupcake papers
Place in the freezer
 
Basic Dog Biscuits
These basic biscuits can be customized to cater to your canine's palette
Ingredients
2 ½ cups whole wheat flour (substitute regular flour or oats if your dog is sensitive to wheat)
1 tsp. salt (or less)
1 egg
1 tsp. Beef or chicken Bouillon granules (can substitute beef or chicken broth/stock)
½ cup hot water
Optional Add ins
Bacon or chicken broth, eggs, oats, liver powder, wheat germ, shredded cheese, bacon bits

Directions
Preheat oven to 350 degrees
Dissolve bouillon in hot water
Add remaining ingredients
Knead dough until it forms a ball (approximately 3 minutes)
Roll dough until ½ inch thick
Cut into slices or bone shapes (you can purchase a bone shaped cookie cutter to make shapes with)
Place dough pieces on lightly greased cookie sheet
Cook for 30 minutes
 
Healthy Pumpkin Balls
This snack is not only delicious but is also filled with fiber, vitamin A, beta-carotene, potassium, and iron.
Ingredients
1/2 cup canned pumpkin
4 tbsp molasses
4 tbsp water
2 tbsp vegetable oil
2 cups whole wheat flour
¼ tsp baking soda
¼ tsp baking powder
1 tsp cinnamon (optional)
Directions
Preheat oven to 350 degrees
Mix pumpkin, molasses, vegetable oil, and water together in a bowl
Add the whole wheat flour, baking soda, baking powder and cinnamon to the mixture and stir until dough softens
Scoop out small spoonfuls of dough and roll into balls on your hands (wet hands work best)
Set the balls onto a lightly greased cookie sheet and flatten with a fork
Bake approximately 25 minutes until dough is hardened
 
Apple Crunch Pupcakes
A fruity treat your dog will adore
Ingredients
2 ¾ cups water
¼ cup applesauce (unsweetened)
2 tbsp honey
1/8 tbsp vanilla extract
1 medium egg
4 cups whole wheat flour
1 cup dried apple chips (unsweetened)
1 tbsp baking powder

Directions
Preheat oven to 350 degrees
Mix water, applesauce, honey, egg, and vanilla together in a bowl
Add remaining ingredients and mix until well blended
Pour into lightly greased muffin pans
Bake 1 ¼ hours
Some Things to Watch Out For
When preparing homemade dog treats, make sure you take into account any allergies that your pet has to specific ingredients. You will want to avoid adding any ingredient that you know that your pet has reacted poorly to in the past. If you are experimenting with new flavors, feed the treat to your dog in a small amount to see how he reacts to it before distributing an entire treat. Store your homemade dog treats in an airtight container and place them in the freezer. Allow the treat to thaw for 10 – 20 minutes prior to serving to your dog. Treats can last for up to 6 months in the freezer.
Read more: http://www.cesarsway.com/dog-care/dog-nutrition/Recipe-Ideas-for-Quick-and-Healthy-Homemade-Dog-Treats?utm_source=CMI_FB&utm_medium=Post&utm_campaign=9.13#ixzz2gOLke4Dg