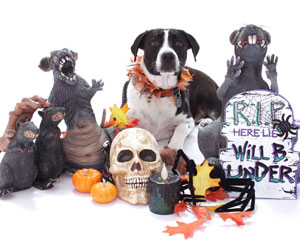 Halloween is filled with frights, but you can leave the spooks to the ghosts this holiday by keeping your dog out of harms way.
Posted: Oct 16, 2013, 10 a.m. EST on www.dogchannel.com
Check out these common Halloween hazards and tips to have a fun and safe holiday for the whole family.
Halloween Candy
Everyone loves candy and on Halloween candy is everywhere. While your dog may have never been tempted by sweet treats before, keep in mind that candy probably has never been so accessible! On Halloween candy can be found in bowls, on tables, next to doors, in trick or treat bags being carried at dog level and in the hands of small children who might think your dog would like to share the snack. Candy also makes it onto the floor when spilled during the handout or dumped out for the all-important candy sort.
Spooky Sugar and Frightful Fats

While not all candy is specifically poisonous to dogs, it does contain large amounts of sugar and fat. The ingestion of large amounts of either can lead to pancreatitis in dogs.

Chocolate Nightmares

Present in a substantial amount of Halloween goodies, chocolate is highly poisonous to dogs even in small amounts (learn more about dogs and chocolate) and should never be shared with your pet.

Wrathful Wrappers

While wrappers are of no interest to humans and often end up scattered on tables and floors, they can look like a delightful snack to your four legged friend. While they might be empty and free of candy, wrappers can actually be as dangerous or even more dangerous than the candy itself. Foil and cellophane can cause life-threatening bowel obstructions, which may require surgery.

Repulsive Raisins

While you might be thrilled to see a healthy treat in Halloween goody bags — beware! Some people switch out the usual candy for a healthy snack of trail mix or raisins. While healthy for humans, raisins are highly toxic to dogs and can cause kidney failure.
Human Halloween Costumes
While you might not think your own costume has anything to do with your dog, there are a few things you should keep in mind.
Halloween costumes, especially children's costumes, often include small parts and unusual materials that may resemble your dog's toys or chew toys. They might even make unusual and tempting noises. Be careful not to leave the costume unattended and beware of any loose pieces that may become a doggie disaster.
Glow sticks and glow jewelry are a good way to keep your child visable, but could look like a toy/stick to your dog. If your child is carrying a glow stick, remind them that they should not wave it around in front of the dog. Chewing on glow sticks can cause your dog mouth pain, irritation and drooling and ingesting a glow stick can cause intestinal blockage.
Dog Halloween Costumes
While some dogs might like being dressed up, it's wise to experiment first to see if a pet likes to be in clothing. When choosing your dog's Halloween costume, remember these tips:
When selecting a Halloween costume for your dog, make sure that it fits well. A costume that is too restrictive or too loose could cause harm to your dog. Take time to acclimate your dog to the costume prior to the big day.
Make sure pet costumes do not limit an animal's movement, hearing, sight or ability to breathe or bark. Also check the costume for choking hazards.
 For dogs that don't like cosutmes, a Halloween collar, leash or bandana can be just as festive.
Halloween Decorations
Decorations are a regular part of Halloween fun, but some can pose a safety hazard to your dog and your home.  Use fake cobwebs sparingly outdoors. These may adversely affect pets and wildlife. As with any holiday decoration, don't let pets chew or eat items like crepe paper streamers or tinsel – these can discolor your pet's mouth, cause upset stomach, choking and intestinal blockage.
Pumpkins and Jack-O-Lanterns
While many people feed small amounts of pumpkin to their dogs for health purposes, there is a big difference between cooked and pureed "food-friendly" pumpkin, and decorative, raw pumpkins.
Dogs should never eat the shell of a pumpkin or gourd, but during the fall season, many decorative pumpkins and gourds are coated with materials, such as glue, glitter or shellac that can be toxic to your pet.
Once Halloween is over, ditch the carved pumpkins. They can become dangerous as they may deteriorate and grow mold over time.
Re-think placing candles in Jack-O-Lanterns. Pets can easily knock them over and start a fire. There are many great battery-operated alternatives to light up your pumpkin that last longer and are safer for everyone!
Stress Free Halloween
Although it is tempting to include your dog in the festivities, sometimes the best option for everyone is to keep the dog away from the festivities all together. Halloween can be a scary and stressful time for your dog. Halloween is synonymous with spooky music, strange noises, creepy decorations and holiday pranks. The yells and screams of trick-or-treaters, doorbells ringing and a parade of costumed strangers at the door might all be in good fun, but your dog probably doesn't know that.
Keep your dog inside. The late night commotion might cause your dog to spook and flee.
Take your dog on a long walk before Halloween night. This will help with anxiety and get them ready for an early bed time.
Create a quiet and comfortable room for your dog that will not have people going in and out of it. Consider playing music to drown out strange noises.
If you aren't going to be home for trick-or-treaters, turn off the lights in the house so people will be less likely to knock.
Have a fun and safe Halloween!
 reposted from www.dogchannel.com